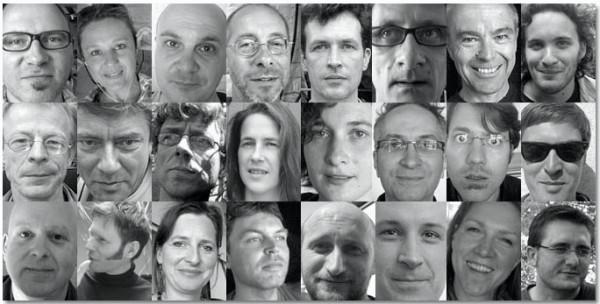 The Multiple Joy[ce] Orchestra grew out of the James Choice Orchestra, which a collective of composers founded in 2004 to present their own works. Four years later three of these composers – Frank Gratkowski, Carl Ludwig Hübsch and Matthias Schubert – restructured the group to allow additional possibilities, such as collaborations with guest soloists and commissioning works from guest composers. The new group retains the original orchestra`s focus on combining composition and improvisation within a large-scale ensemble.
The orchestra includes more than twenty musicians who live in the Cologne region. These musicians, all of whom are refined improvisers as well as skilled in traditional music fundamentals, come from such disciplines as jazz, classical music, New Music, experimental music, and free improvisation.
What can we do as an orchestra that we couldn`t if we were a smaller group? The idea is to explore sheer immensity of sound and range of expression, drawing on the creativity of many players, sometimes collectively, sometimes in layers. All of the orchestra`s compositions are written with its members` special abilities in mind, a contrast with traditional orchestral compositions that are written for generic players. As such the ensemble`s individual members become an important part of each composition. The music takes its final shape from the interaction of the players` decisions and predetermined composed material.
This deep interrelationship distinguishes the orchestra from traditional large ensembles, such as symphonic orchestras or jazz big bands, that view their players as cogs in a totalizing mechanism. In the Multiple Joy[ce] Orchestra musicians are valued as part of a living organism that thrives in a flexible environment, self-sufficient yet able to interact spontaneously, transforming and enriching musical concepts.